T3 ColorLock Press Flat Iron
The Press combined with the T3 specially formulated ColorLock Pressing Spray, a nourishing blend of moisturizers and color-sealing ingredients, reduces color fading, enhances existing color and restores hair's natural vitality, resulting in true, luminous color in and out of the salon.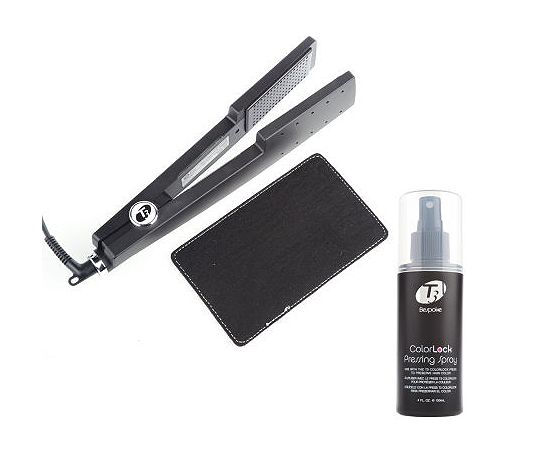 The ColorLock Press uses penetrative, non-damaging high heat and features Zeolite and Tourmaline-infused plates with a patented "dimpled" design to seal in and preserve color so that it won't fade. High heat and pressure from the dimpled plates break down color pigment getting color deeper into the cortex of the hair so it can be distributed more easily and evenly. The ColorLock Press maintains an even heat up to 450 degrees F.
The ColorLock Collection is intended for locking in color after hair is colored at a salon. The ColorLock Press and Pressing Spray should be used as the last step of the coloring procedure.
What is it: A professional flat iron for color-treated hair that enhances and revitalizes hair color every time you style; and a companion ColorLock styling spray.
Who is it for: Anyone who straightens and colors their hair. This iron is particularly effective for those with long hair, or hair that is curly, coarse, or thick.
Why is it different: This flat iron straightens wet or dry hair using T3 advanced professional technology. Working to maximize both your hair's natural moisture and the powerful ingredients of the ColorLock spray, T3 tourmaline and zeolite-infused plates bring out shine, luster, and vibrancy for beautiful, healthy-looking colored hair that is smooth and polished. With every pass, the iron's high heat and dimpled plates help the powerful ingredients penetrate deep into the hair, nourishing and smoothing with a rich keratin formula.
The ColorLock spray helps keep color truer in between color applications; adds shine to the hair for a smooth, reflective finish; and revitalizes and conditions potentially damaged colored-treated hair for a healthy look and feel.
How do I use it: Apply the spray on wet or dry hair, and use the flat iron as normal. If coloring hair at home, ideal for use right after you rinse and shampoo.