Kamisori Katsumi Hair Shears
The Katsumi is a great learning tool for the student or entry level hairdresser. Achieve novice-level overall cutting and texturizing with this series.

Kamisori premium shears are the best performing and most durable shears in its class you will find anywhere! Guaranteed.

If you are looking for the best ergonomic shears, look no further! Highly recommended for professionals looking to prevent wrist stress or find utmost comfort from hand fatigue and Carpal Tunnel Syndrome. Feather weight and perfectly balanced.
Material: 440C Hitachi
Rockwell Steel Hardness: 59
Available Sizes: 5.5"/6.0"
Specialty: Overall
Tension System: Coin
Ring Size: Adjustable using soft ring inserts.
Handle Type: ERGONOMIC for high levels of comfort and reducing wrist and shoulder fatigue.
Warranty: Life
Production Type: Hand Made
Item Included:

Lifetime Warranty
One Year Drop Warranty
30-Day Money Back Guarantee
Luxury Kamisori Case with Accessories
H3 Texturizing Razor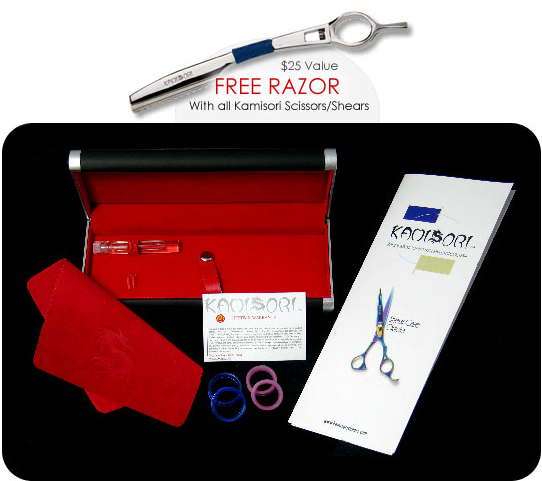 Unlike other shears that are cast or made in one piece - Kamisori premium shears are forged, meaning the handle and blade are manufactured in separate molds which are then welded together by hand to ensure proper balance and blade alignment. This process is more labor and cost intensive but it gives you a much higher quality, longer lasting, better cutting product for years to come.